NYC Urban Oasis Guide
Escape city life without actually leaving the it.
Click the images for more info.
The Beach At Dream Downtown
Have a day off, take advantage! Buy a day pass and head over to The Dream Hotel's Chelsea location and chill out by the pool or grab eats at their poolside restaurant. I highly recommend their frosé!
Little River Beer Garden
Tucked behind Tom Colicchio's Riverpark is Little River Beer Garden. A collection of picnic tables, oversized games like Connect 4 and a bar have been set up for the warmer weather. With views of the East River, it's the perfect way to escape the city on any given weeknight or afternoon.
Grand Banks
I don't know what New Yorker doesn't want to escape work and hop aboard a boat and have some cocktails. Often we fantasize about hopping in lavish convertibles or aboard our helicopters to land aboard our private yaghts
Rock Center Café
Did someone just ask you to pick a place in the tourist insanity by 30 Rock to grab lunch? Yo, I'm so sorry. But, but, BUT, if it's summer, you should head to Rock Center Café. It's kinda funny. It has that hiding in plain sight feel. If you know that lower-level pit thing directly under the iconic 30 Rock building—it's where the ice skating rink is in the winter—under those white umbrellas is this café. Lounge back. Listen to the waterfall. And, you'll forget the hoards of sweaty humans that will mindlessly push you into traffic "by accident" looming above you.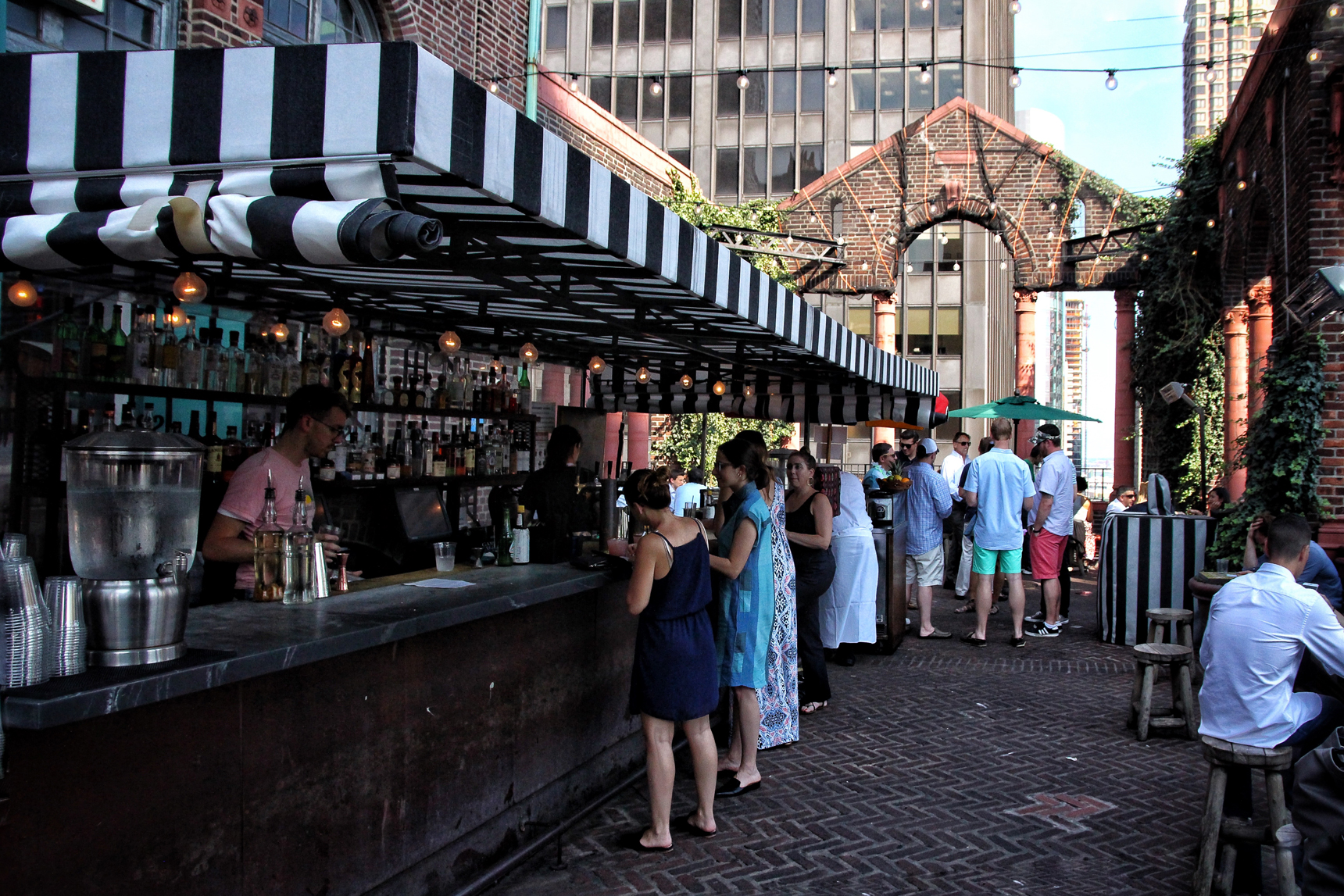 Salvation Taco Rooftop
No one has ever not needed to escape midtown. If you're like, "no, no not me, I love midtown. My favorite part is standing outside and being run over by overnight wheely suitcases being dragged behind a suited up human, ooh, wait, no, no, I totally prefer being rammed into by the chick switching out of her work heels into her kicks in the middle of the sidewalk because she just can't take it anymore (I can say it, I was that chick when I lived the 9-5 kinda life)" well, I don't believe you. Friends, if you can't go North, East, South, or West, go vertically! On the rooftop of the Pod 39 Hotel is the Salvation Taco Rooftop, and it's epic! The views alone almost make midtown kinda pretty. Huh, who would have thunk it?
Tavern On The Green
Tucked away in Central Park you should find yourself sitting under a canopy of hanging lights eating off a shellfish tower and sipping something bubbly. It's an iconically perfect afternoon.
Guides
Michelle Williams
oasis, the beach at dream downtown, dream hotel, grand banks, little river beer garden, riverpark, rock center cafe, rock center café, 30 rock, salvation taco, rooftop, salvation taco rooftop, nyc