Behind The Desserts At Untitled With Executive Pastry Chef Miro Uskokovic
You know them for their infamous Triple Chocolate Chunk Cookie—if you don't, fix that immediately. While you're at it, there is so much more you need, yes, "need", to know about the desserts at the Untitled, the restaurant at the Whitney Museum.
Guided by my friend Miro Uskokovic, the Untitled executive pastry chef, I went behind the scenes and into the kitchens. Down the stairs, we went to kitchen number one, "the prep kitchen". As the name states, this is where the food is prepped—the dough for the cranberry scones are measured and cut, the chickens are put on the rotisserie spit rod and seasoned and recipes are tested. I so loved tasting and giving feedback on the differences in flour choices in their cheesy biscuits and the density and flavors seasonal cakes, these you'll need to go try when they hit the menu. They're so rich, flavorful and delicious.
Once ready for cooking and plating, each element of the dish is brought upstairs to the restaurant's open kitchen where several chefs, each with their own station, build their dishes to order. On one end is the rotisserie chicken roasting and warming the space, while down on the other end it is much cooler for ceviches and dessert assembly.
Each element that goes into the plating thoughtfully handled. From a touch of greenery to the fruit wedges, every piece is carefully placed just so using tweezers. It's amazing to watch. I can honestly say, you absolutely cannot go wrong with any of the dessert options—I know, I ate them all!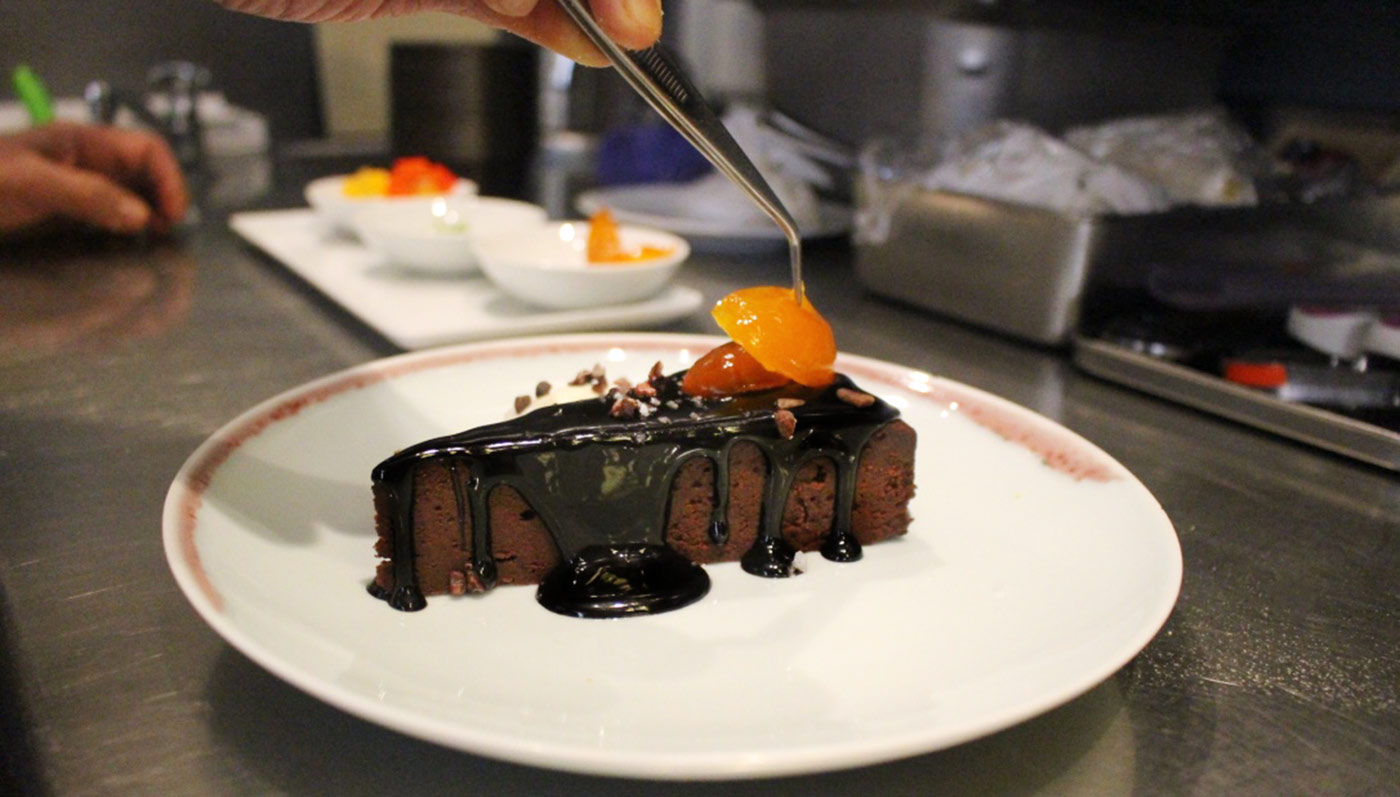 There's is this crazy delicious Lemon Meringue Pie which was designed to have a slightly more rustic feel while still being incredibly composed. Its crust is prepared like a cookie, it's outrageous.
I'd like to toss aside the raging chocoholic in me and say that I'd gladly skip on the Hot Fudge Truffle Cake for it, but then I tasted it and decided that some decisions should hands down never be made. Sneaking some secret ingredients into the batter, this cake is still rich without being overly so. It's the complexity of the flavors as you savor each bite as it melts and then lingers on your tongue. It's that quality that gets your mind thinking about ordering a second slice even though you're merely a couple bites into your first.
If you've mentally committed to ordering a second slice thinking that no other dessert in the world could possibly be better than this one, you would be wrong. I'm telling you, Chef Miro's desserts are all of an elite caliber. Not one is better than the other, it really comes down to preference or mood. From the Lemon Meringue to the Sticky Toffee Cake, not one should be missed. If you can't handle it all on your own, hehe, go with a couple of friends and order them all!
And, remember, there's always room for one more cookie (even if it's to-go)!