Quick Tips for Hosting Thanksgiving from the Ocean Spray Bog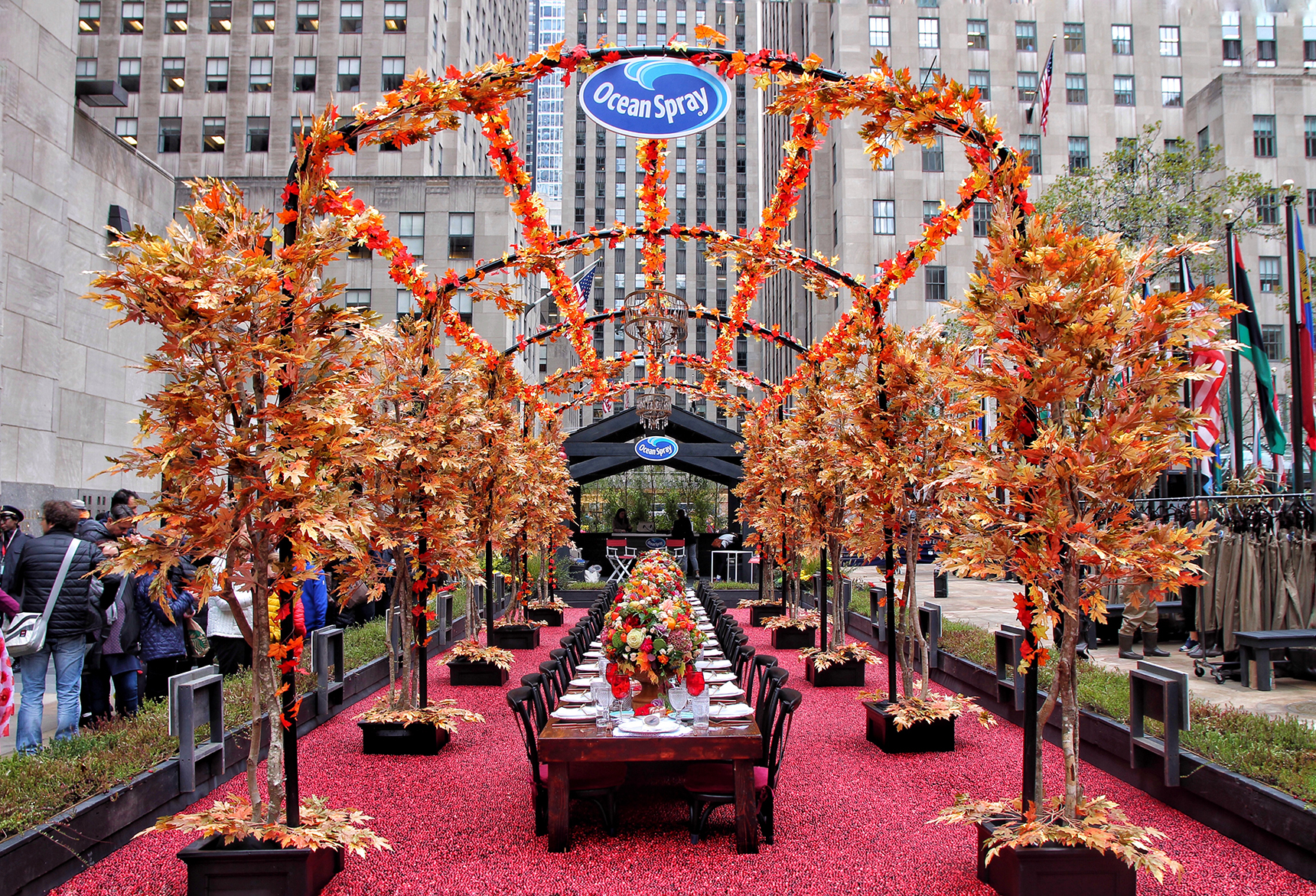 If you're planning on hosting your very first Thanksgiving or Friendsgiving dinner this year and are already feeling in over your head, don't feel bogged down (pun aggressively intended). I've got you covered! Well, some really wise CranMas do—aka. cranberry farmer grandmas, aka. the ladies who for sure know the best Thanksgiving tips and tricks. You see, I recently went to such an awesomely informative event hosted by Ocean Spray in the coolest man-made cranberry bog built smack dab in the center of Rockefeller Center® under the shadow of 30 Rock. The event was a sit-down Thanksgiving meal at a communal table in the cranberry bog. Before the meal, I was able to mingle with some Thanksgiving pros and am writing out all of the great tips and tricks they shared with me.
So sift through their quick tips and refer back as needed. Remember, you've got this in the bog—haha, ahem, "bag" (woah. I'm wowing myself with the aggressive puns today).
Decor Tips
Too Pretty To Eat Flower Arrangements. To give your decor a unified aesthetic, incorporate seasonal fruits and vegetables that you are using in your dishes into your floral centerpiece.
Set Your Table Early. Set your table a week in advance. This way, if it feels like something is missing, you have time to stroll out to a store and get it (so much better than running out while your turkey is in the oven, your hands are covered in mashed potatoes, and you have seven alarms just minutes away from blaring).
Cranberry Napkin Rings. If you've ever strung popcorn on Christmas, this is like that. Use a piece of thin wire and pierce it through several cranberries. Once you've created a strand long enough that it fits around your wrist, twist both ends of your wire together closing your cranberries into a loop. Stick a cloth napkin through it and you have the perfect seasonal napkin ring!
Entertaining Tips
Pitcher This. Thanksgiving can be really hard on the host. You can't and shouldn't finish all of the dishes before guests come over because they will be cold by the time they sit down to the table. You've seen it before. The host is cooking, chatting and sounding extremely overwhelmed. Be awesome, plan ahead!
Make a punch or cocktail in bulk. Leave it in the entry area with several glasses and a cute little sign explaining what it is and that it is a self-serve station. This way, guests can mingle without you having to make them a feast while pouring drinks—no one should have to be a chef and a mixologist in the same moment (I just got a really vivid image of the Cat In The Hat juggling the fishbowl, a book, and a cake while standing on a ball image in my head. God, the Thanksgiving version of that would be a delicious disaster—a bowl of gravy instead of the fishbowl, a cookbook, and a pumpkin pie all in the air).
My fun take on this tip would be to pre-batch your drink into mason jars. Screw their caps on and set them in a basin filled with ice. It's a shabby chic adorable route to go that also keeps guests from spilling all over your entryway floors.
Snack Attack. Have yummy thoughtful bite-sized snacks out and about. Some near the cocktails, others by the seating area. This will keep people from snacking on your mise-en-place.
Turkey Tips
Let's Talk Turkey. There's no denying it, turkey is the star of the show. Even vegetarians and their tofurky know this. So, you've gotta do it right! Here are some tips from the bog.
'Tis The Season. You must flavor your turkey. Yes, you should put your herbs and citrus in the inside cavity of the bird but also go ahead and lift the skin and put your herbs and citrus between the skin and the meat before putting your turkey in the oven. Lemon and thyme were highly recommended.
Time Is Of The Essence. Know the weight of your turkey because when it comes to timing, you should be baking it for 15 minutes per pound.
Plan To Rest. BING! Turkey's done! Or is it? Once your turkey comes out of the oven, you absolutely must allow it to rest (ie. sit on your counter) for 30 minutes. This allows for the juices to settle and give you a perfectly moist bird. If you cut into it before then, the juices will run out and you will serve a hot dry yucky turkey to your friends and family. Ain't nobody got time for bad turkey!
Hostess With The Mostess
Have Fun. With all of these tips up your sleeve hopefully, everything will go off without a hitch. That said, do remember if on the off chance something goes awry, know that your friends and family are at your home because they love you and want to spend time with you. So don't let it get to you. Have the best time because, no matter what, your job as the host is to set a happy loving tone to the day. Your family and friends will love you even if you burn the turkey to a crisp and have to order Thanksgiving pizza.
This is a sponsored conversation written by me on behalf of Ocean Spray. The opinions and text are all mine.