Blood Orange Chocolate Heart Cookies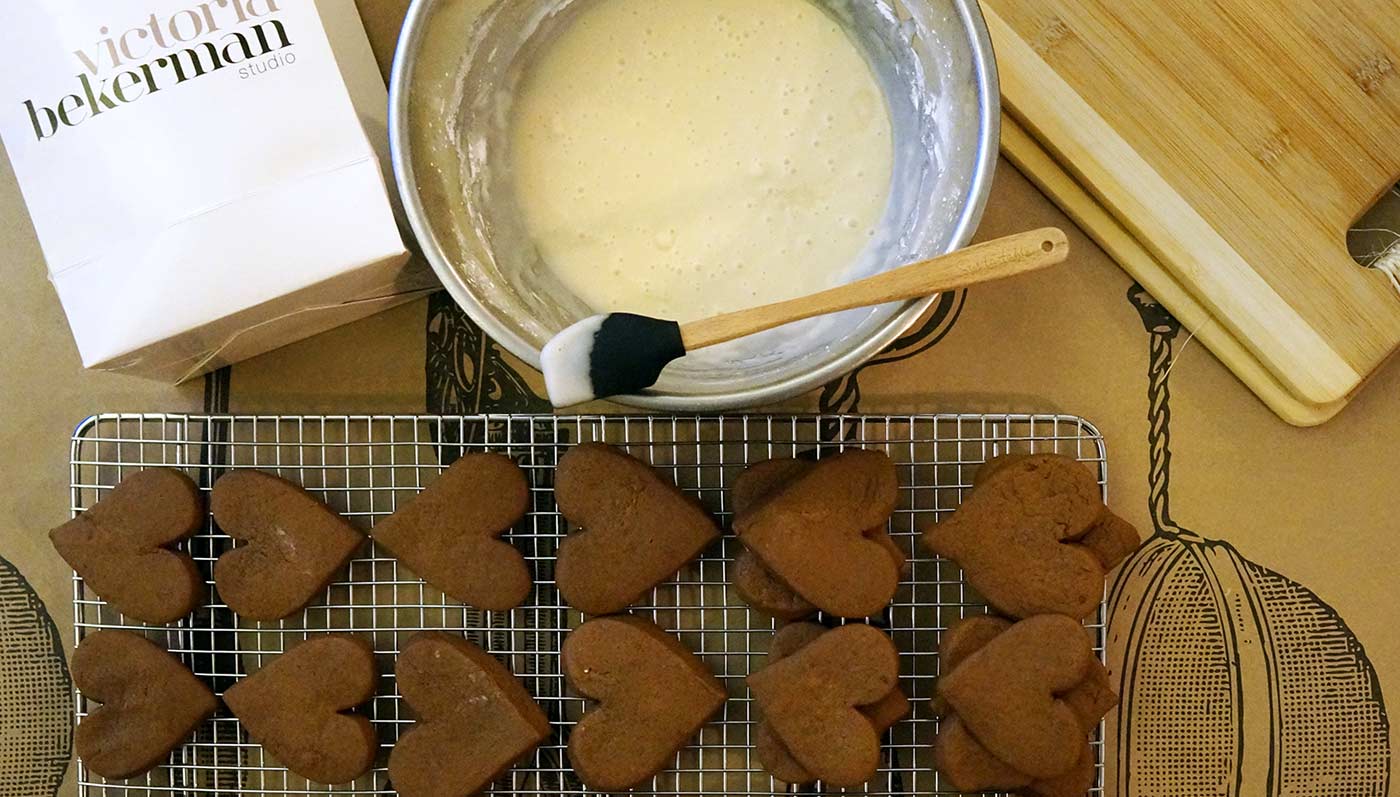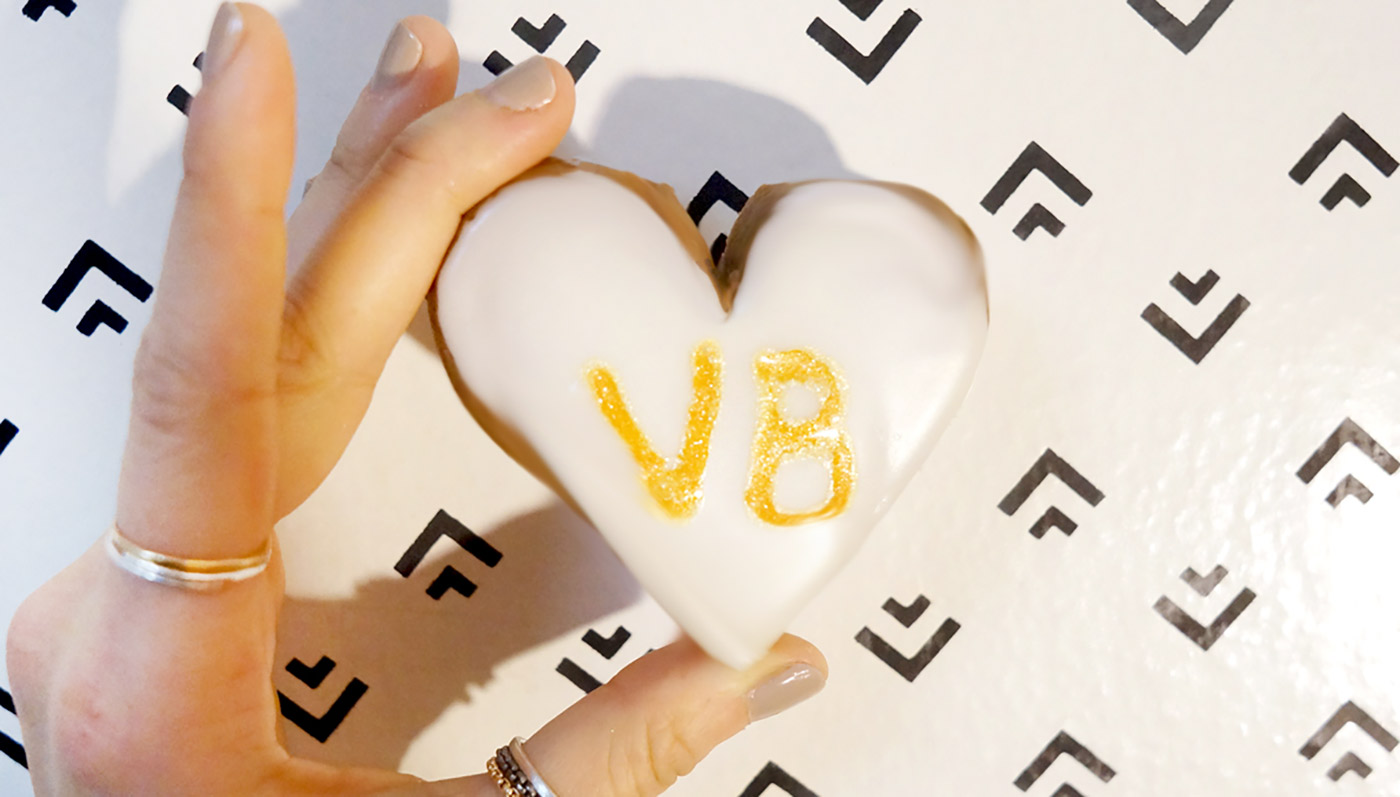 I first met Victoria Bekerman at the UrbanSpace Union Square Holiday Market. Immediately, I was more than obsessed with her jewelry—I had to get my paws on some. One thing led to the next and we decided that we should meet, have a coffee, and figure out a way to work together. We spent three hours chatting, looking through jewelry and making sure we immortalized our first meeting in a perfect photo. From that meeting, came this genius idea of an edgy cookies to pair with her rockin' jewelry because truly, what screams Valentine's Day more than chocolate, hearts and baubles?
TIME
PREP TIME: 10 minutes
REFRIGERATE TIME: 2 hours
BAKE TIME: 8 minutes
TOTAL TIME: 2 hours 18 minutes
YIELDS
30 Cookies
INGREDIENTS
COOKIES
All-Purpose Flour (2 1/4 Cups, Plus Extra For Sprinkling On Your Dough Rolling Surface)
Baking Powder (1 Tsp)
Salt (1/4 Tsp)
Unsweetened Cocoa Powder (1/4 Cup)
Brown Sugar (1 Cup)
Pure Vanilla Extract (1 Tbsp)
Egg (1)
Unsalted Butter (8 Oz, Room Temperature. Cut Into Tbsp Sized Super Soft Pieces)
Blood Orange (2 Tbsp Of The Juice From 1 Blood Orange)
ICING
Powdered Sugar (2 Cups)
Almond Milk (3 Tbsp)
Pure Vanilla Extract (1 Tsp)
Lite Corn Syrup (2 Tbsp)
TOPPINGS
Gold Pearl Decorating Dust (1 Tbsp)
Lemon Juice (1 Tbsp)


KITCHEN ITEMS
Medium Mixing Bowl
Large Mixing Bowl
Rubber Spatula
Stand Mixer
Plastic Wrap
Rolling Pin
Heart Shaped Cookie Cutter
Silpat (Or Parchment Paper)
Baking Sheet
Metal Spatula
Cooling Rack
Whisk
Butter Knife
Pinch Cup
Thin Decorating Paint Brush
TO MAKE YOUR COOKIE DOUGH. in your large mixing bowl, use your whisk to combine your flour, baking powder, salt and cocoa powder.

Set aside.

In your stand mixer, on a low speed, cream together your pieces of butter and your sugar.

Add in your vanilla, blood orange juice and egg.

Slowly incorporate your cocoa flour mixture.

Using your hands, roll your cookie dough into one large ball, cut that ball in half and roll each of those halves into balls.

Wrap them in plastic wrap.

Refrigerate for 2 hours.

TO MAKE YOUR ICING. using your rubber spatula, combine your powdered sugar, almond milk, corn syrup and vanilla in your medium mixing bowl.

TO MAKE YOUR COOKIES. preheat your oven to 350 degrees.

Line your baking sheet with your silpat and set aside.

Dust your rolling pin and work surface with flour.

Place your cookie dough in the center of it and use your rolling pin to roll it out until it's a 1/8 inch thick.

Use your cookie cutter to cut out as many hearts as you can and one by one place them 1 inch apart on your baking mat.

When your cookies are baking they won't expand much so you don't have to worry about them being close.

Roll your cut out cookie dough scraps back into a large ball and use your rolling pin to roll it out again. Use your cookie cutter to get as many additional cookies as possible. Continue this process until you don't have enough dough for a full cookie.

Bake for 8 minutes.

Remove them from the oven and let them sit on the lined baking sheet for 1 minute before touching them.

Transfer them to your cooling rack.

TO DECORATE YOUR COOKIES. use your butter knife as though your were buttering toast to lather your icing onto your cookies.

In your pinch cup, mix together your lemon juice and gold pearl powder.

Use your paint brush to write or draw on your cookies.

Make them fun and send me photos! I love to laugh! I can't hardly wait to see them!