Deconstructed Ice Cream And Waffles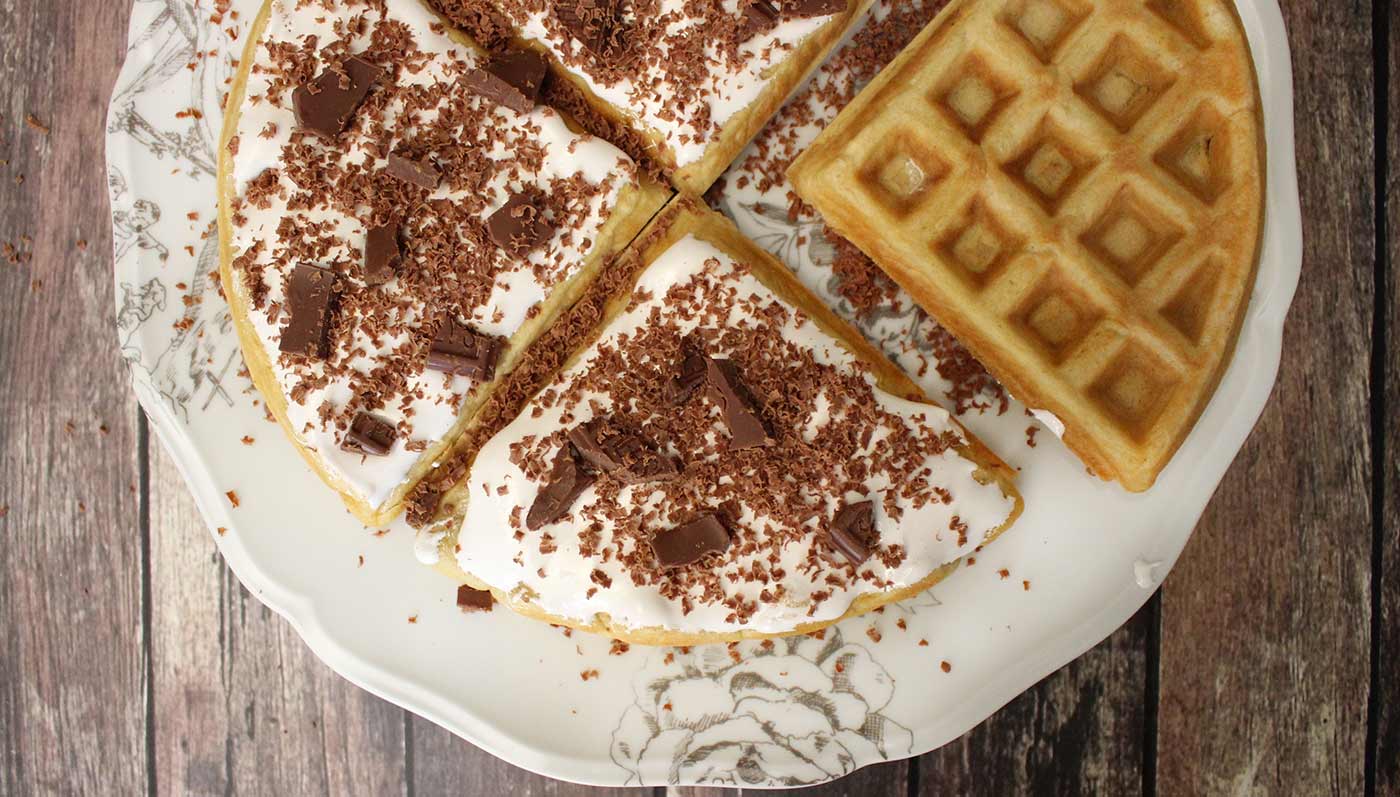 Buy one get one! Containers of Häagen-Dazs® ice cream, that is. Who in their right mind would say no to that? I surely didn't. Picture me, hearing this deal, I immediately popped up from my couch and hustled up the block to my nearest Duane Reade. I bought two containers of vanilla on the spot! One to enjoy immediately—yes, like a bottle concealed in a paper bag, only instead of a bottle, insert a rich smooth container of ice cream and a spoon—and the other to play with in my kitchen. Oh my god, it was so fun to turn it into a food porny extremely gluttonous and way delicious dessert. Pumped up from a weekend filled with ice cream served up in a waffle cone, I couldn't get the idea of waffle cones and ice cream out of my head. Waffle cones. Ice cream. Waffles. Ice cream. One thing led to the next and my brain erased the word "cone" from "waffle cone". Still served up—stacked—but this time, with a twist (and a hint of bourbon). Oh, boy, it's good!
Get your samples STAT! And, then buy a container of your favorite flavor and a second container of vanilla—hello, BOGO! You gotta make my dessert! It's so epic! Make sure to take pictures, share them on social and tag your BOGO moments on with the hashtag "#HDOpenContainer".
TIME
PREP TIME: 10 minutes, divided
COOK TIME: 2 minutes
COOL TIME: 5 minutes
TOTAL TIME: 17 minutes
YIELDS
1 Epic Dessert
INGREDIENTS
WAFFLES
All Purpose Flour (1 cup)
White Sugar (1 1/4 tbsp)
Baking Powder (2 tsp)
Baking Soda (1/2 tsp)
Salt (1/4 tsp)
Unsalted Butter (3 tbsp, melted)
Egg (1, beaten)
Almond Milk (1/3 cup)
Madagascar Bourbon Pure Vanilla Extract (1 tsp)
Bourbon (1 tsp)
TOPPINGS
Marshmallow Fluff (8 tbsp)
Peach (1, sliced into rounds)
Häagen-Dazs Vanilla Ice Cream (14 oz container)
Milk Chocolate Bar (2 oz, shaved)
Chocolate Sprinkles (2 tbsp)
Chocolate Syrup
Butter Cooking Spray


KITCHEN ITEMS
Waffle Maker
Ice Cream Scoop
Cutting Board
Chef's Knife
Large Mixing Bowl
Medium Mixing Bowl
Rubber Spatula
Metal Spatula
Whisk
Butter Knife
Zester
1. TO MAKE YOUR WAFFLES. in your large mixing bowl, combine your flour, sugar, baking powder, baking soda, salt.
In your medium mixing bowl, whisk together your egg, almond milk, pure vanilla extract, and bourbon.
Pour your wet mixture over your dry one and using your rubber spatula, fold them together.
Leaving a few little bumps in your batter is a good thing. It will keep your waffles light and fluffy.
Preheat your waffle maker.
Grease your waffle maker with your butter spray.
Ladle your batter into the waffle maker.
Close it and allow it to cook until it lets you know it is ready.
Transfer your waffle onto your cutting board.
Using your chef's knife, cut along the seams to turn your round waffle into four triangles.
Let cool to room temperature—about 5 minutes.
2. TO BUILD YOUR STACK. using your butter knife, smear your marshmallow fluff on one side of each of your waffle traingles—like how you would butter your toast.
Use your zester to grate your milk chocolate allowing it to fall over your marshmallow fluff.
Press in any remaining small chunks of chocolate—they will give some nice textural variety.
Layer on three slices of your peach onto each of your waffle triangles.
Place one of your decorated waffle triangles on the plate you plan to serve it from.
Use your ice cream scoop to scoop on a large scoop of your Häagen-Dazs Vanilla Ice Cream on top of your waffle triangle.
Stack on a second one of your decorated waffle triangles.
Add on another scoop of your Häagen-Dazs Vanilla Ice Cream.
Repeat this process two more times—until you have a beautiful melty stack of waffles and ice cream with a large scoop on top.
Sprinkle on your sprinkles.
Drizzle on chocolate syrup to your liking.