Sweet And Spicy Margarita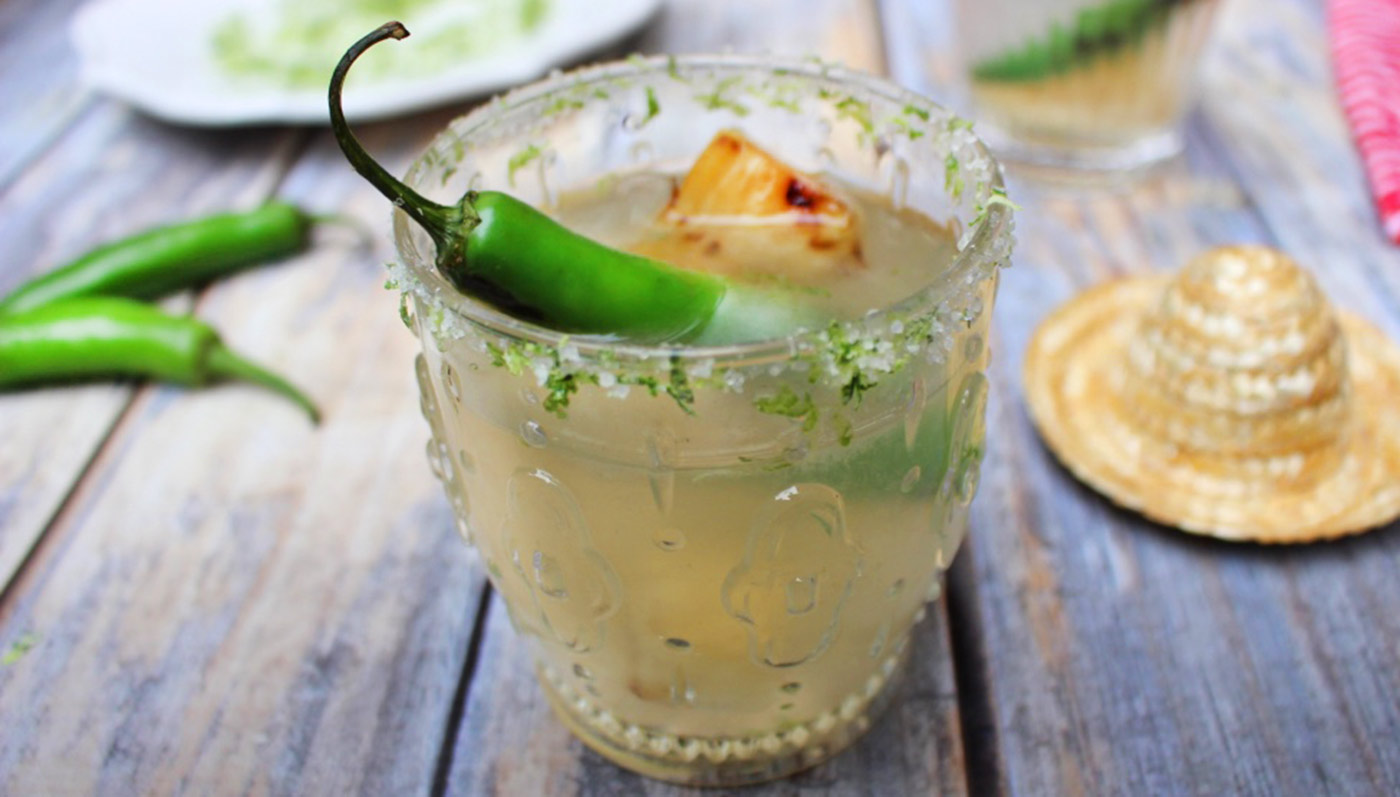 When my friends at FreshDirect brought up the idea of "Margarita Week" leading up to Cinco de Mayo, duh, I was hands down, immediately all in! One, I love margaritas, and two, it's an excuse to try a different one every day for a whole week. For me, the spicier the better! So, get ready to get hot, hot, hot (and way delicious)!
Do note, this recipe requires you to make simple syrup and have it cool before using it. It would be best to make the simple syrup ahead of time, perhaps before work, let it cool all day (2 hours minimum) and then have your cocktails when you get home. Also, this recipe makes a lot more simple syrup than needed for one cocktail, this way you and your friends (and me and my friends) can have lots o' dranks! You're welcome!
TIME
PREP TIME: 3 minutes
COOK TIME: 40 minutes
REFRIGERATE TIME: 2 hours
TOTAL TIME: 2 hours 43 minutes
YIELDS
1 Cocktail
INGREDIENTS
JALAPENO SIMPLE SYRUP
Jalapeño (1, sliced)
White Sugar (2 cups)
Water (4 cups)
COCKTAIL
Ice Cubes
Tequila (3 Oz—I used Herradura Silver)
Orange Liqueur (1/2 Tsp—I used Grand Marnier)
Lime (2 oz lime juice—zest your lime before squeezing out its juice, see "Lime Salted Rim")
Pineapple (1 small wedge slice)
LIME SALTED RIM
Lime (zested—can be the same lime used for its juice when mixing the cocktail)
Salt


KITCHEN ITEMS
Saucepan
Mason Jars (Or Other Heat Proof Containers)
Wooden Spoon
Shaker
Lime Juicer
Small Plate (2)
IT'S CALLED SIMPLE SYRUP FOR A REASON. in your saucepan, over high heat, use your wooden spoon to mix together your water, sugar and jalapeño slices until your sugar is fully dissolved.

Bring to a boil and then lower to a simmer.

Let simmer for 40 minutes.

Carefully transfer your simple syrup into your mason jars.

Refrigerate till cool—about 2 hours.

MIX UP LA MARGARITA. zest your full lime onto your small plate.

Add the same amount of salt as your lime to your lime zest on your small plate.

Mix your salt and lime together.

Fill your second small plate with water.

Dip the glass you plan to drink your margarita out of top down into the water.

Dip that same glass into your lime salt mixture—you should now have a zesty salted rim!

Fill your shaker about halfway with ice.

Pour in your tequila, Grand Marnier, lime juice and 1 oz of your simple syrup.

Shake it vigorously for about 20 seconds and then pour into your zesty salted rimmed glass.
Drink on! Cheers! ¡Feliz Cinco De Mayo!