Red Rooster
When in Harlem, Marcus Samuelson's Red Rooster is the place to make your dinner reservation—and you'll need one cause this place is bumpin'! If you're thinking, isn't Streetbird Marcus Samuelson's restaurant in Harlem, yes, you'd be right. This one feels a bit elevated both in it's decor and menu. I'd recommend going to Streetbird for brunch or cocktails and then heading over to Red Rooster for dinner.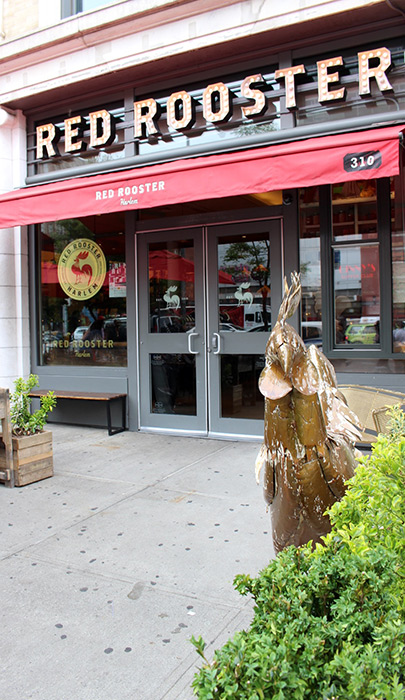 With it's aim to celebrate Harlem's arts, the name "Red Rooster" is an homage to the legendary Harlem speakeasy where neighborhood folk, jazz greats, authors, politicians would gather to drink while listening great music. This sentiment goes well beyond the name, it's a way of life for this restaurant. With live jazz performances on it's sub level and art exhibits like Lana Turner's famous closet (up until September 2016), the restaurant maintains that focus on keeping the culture of Harlem alive.
The menu is an elevated take on soul food. Yes, you'll see classics names like "Fried Green Tomatoes" on it, and when that dish is placed in front of you, with it's fried green tomato wedges, thick chunks of house cured bacon, cubes of watermelon and arugula, you will see just how far this dish has come. As always, the macaroni and cheese, ahem, "Mac & Greens", is a must—with it's subtle flavoring from the collard greens, this one is a must!
As with all soul food, fried chicken is definitely on the menu—Hot Chicken & Waffles and Fried Yardbird are great choices! The Shrimp & Grits has a comforting creaminess to it with a punch of heat if you're feeling for seafood. Try out The Rooster Burger, it's brand spankin' new! But, and this is a big but, do save room because the Red Rooster Doughnuts are sugary bites of heaven—aka, they're way bomb!
Go for the vibe, stay for the super fun eats and cocktails!